Sparkling Kids School aims at providing sound, ethical, practical and intellectual education thereby mentoring the students to become the torch bearers for an enhanced tomorrow. The School is a terrene of the wonderful world around us showcasing young minds to multifarious ideas and experiences.
1. Language Lab
Language lab has been commissioned to offer district opportunity to the students to learn effective communicative skills. The focus is laid on correct pronunciation, right stress and intonation. Using linguaphones and audio – aids, video modulation is also taught. It enhances their communication skills and interest to participate in declamations, debate and group discussions.
2. Computer Labs
To meet the challenges and prepare students for the ever-evolving knowledge-based society, we keep a constant pace with the advancements in the field of Information Technology. The potential of Computer-Information Technology. The potential of computerized instruction as a medium for making teaching more interactive and learner-oriented has always been an exciting matter for educational innovatorszz
3. Library
The school has a well – stocked library consisting of composite subject's book and periodicals under the charge of qualified librarians. Good number of periodicals and newspapers are also subscribed to keep students abreast with latest happenings. It has an open shelf system so as to allow students a free across to the books. Students are constantly encouraged to develop good reading habits.
4. Playground
In order to provide a boost to sports and enable healthy competition in the region, tournaments are organized regularly.  The School sponsors running trophies for various sporting events like cricket, hockey, basketball, football and volleyball. In addition, students are also initiated into participating in races, athletic and gymnastics..
5. Laboratories
We have a science laboratory (Physics, chemistry. Biology), well equipped with the latest apparatus and specimens to facilitate teaching learning of science through 'learning by doing method'. Slidoscope, projectors and other apparatuses are used in teaching all the intricacies of science based topics and generate scientific temper in our budding scientists.The school is set to build planetarium in the near future to quench thirst for celestial knowledge.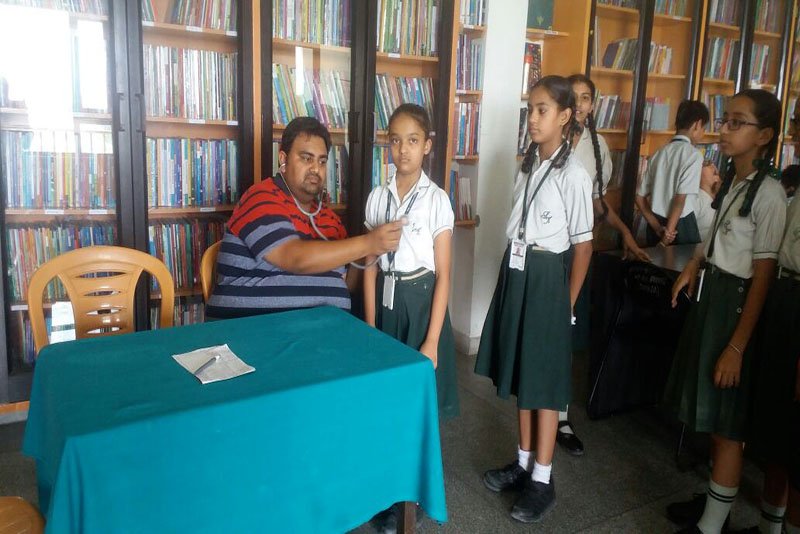 6. Medical and Health Services
A thorough medical checkup is conducted for all students and a proper record is maintained under Comprehensive Health Care Programme.